"Stacking The Shelves is all about sharing the books you are adding to your shelves, may it be physical or virtual. This means you can include books you buy in physical store or online, books you borrow from friends or the library, review books, gifts and of course ebooks!"
For more info, click
here
.
There was a book market this week in Edinburgh which led to me buying quite a many books I probably would not have bought otherwise, at least not at this moment. I am traveling home via London in just a couple of weeks so I should probably stay away from bookstores until then because there's no way I can carry all of these new purchases with me to Finland for summer, but oh well, I guess I can read them in the fall then. The final item in the haul is from Amazon!
Selected Short Stories by H.G. Wells
I couldn't find the version I got from Goodreads, but I believe it is a 1961 Penguin classics edition (it just has one of those orange covers) and it includes
The Time Machine
, which is one of the main reasons I bought this one when I came across it. I read
The Time Machine
earlier this week from my Kindle and found it to be quite interesting, so when I got the chance to own it as a physical copy, I decided to buy it. I also feel like these short story collections are good when you want something quick to read between bigger books. If you are familiar with H.G. Wells's work, what are you favorite stories? Have you seen the original
The Time Machine
film? IT IS SUPER AWESOME!
Franny and Zooey
by J.D. Salinger
The short story, "Franny", takes place in an unnamed college town and tells the tale of an undergraduate who is becoming disenchanted with the selfishness and inauthenticity she perceives all around her.
The novella,
Zooey
, is named for Zooey Glass, the second-youngest member of the Glass family. As his younger sister, Franny, suffers a spiritual and existential breakdown in her parents' Manhattan living room -- leaving Bessie, her mother, deeply concerned -- Zooey comes to her aid, offering what he thinks is brotherly love, understanding, and words of sage advice.
I got this awesome edition from 1964 in perfect connection and I'm super excited to read these soon!
Of Mice and Men/Cannery Row
by John Steinbeck
Of Mice and Men -
The tragic story of the complex bond between two migrant laborers in Central California. They are George Milton and Lennie Small, itinerant ranch hands who dream of one day owning a small farm. George acts as a father figure to Lennie, who is a very large, simple-minded man, calming him and helping to reign in his immense physical strength. .
Cannery Row -
The "story" of Cannery Row follows the adventures of Mack and the boys, a group of unemployed yet resourceful men who inhabit a converted fish-meal shack on the edge of a vacant lot down on the Row.
My edition is from 1949 and it's still in really good condition. I really like these orange Penguin classics and definitely would like to collect more of them.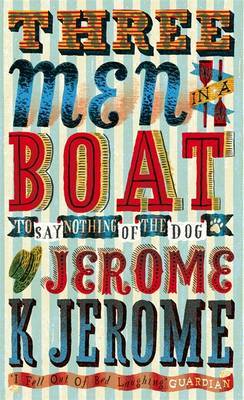 Three Men in a Boat by Jerome K. Jerome
One of the best-loved classics of all time, "Three Men in a Boat" is a hilarious account of three friends and their dog on a holiday trip on the Thames in England. Harris, George, Jerome (the narrator), and Montmorency (the fox terrier) decide to take a break from their tedious routine, to restore their 'mental equilibrium'. And so they take a trip on the Thames between Kingston and Oxford, making certain stops at interesting places, camping out, and inadvertently landing up in
comical muddles and misadventures.
Originally planned as a travelogue, this book turned into a literary classic, thanks to the narrator's humorous digressions, segueing into the historical background of some places. It is sprinkled with his own musings as they cross Hampton Court Palace, Monkey Island, Magna Carta Island, Marlow, little villages, and other known landmarks on the way.
The three men in the novel are based on real-life characters: Jerome himself, and his two friends, George Wingrave and Carl Hentschel.
The Penguin Book of Contemporary Verse
I couldn't find this one from Goodreads either. As the title says, it is a collection of verse from some of the most important contemporary writers. I believe the edition I got is from the 60s and though it is a bit battered, I simply had to buy it because I think the cover design is absolutely gorgeous. I am also really interested to delve into this – I probably will read just pages from here and there rather than to read the book from page one to the final page. I am hoping that maybe this book will get me more into poetry because I used to be really into it in high school.
From the Shadows: The Ultimate Insider's Story of Five Presidents and How They Won the Cold War by Robert M. Gates (FOR MY DISSERTATION RESEARCH)
From a former Director of the Central Intelligence Agency, whose government service spanned six presidencies, this is the inside story of the role of America and the agency in the collapse of communism in the Soviet Union and Eastern Europe.
The Unfinished Journey: America Since World War II by William H. Chafe (FOR MY DISSERTATION RESEARCH)
This popular classic text chronicles America's roller-coaster journey through the decades since World War II. Considering both the paradoxes and the possibilities of post-war America, Chafe portrays the significant cultural and political themes that have colored our country's past and present, including issues of race, class, gender, foreign policy, and economic and social reform. He examines such subjects as the Vietnam War, the Civil Rights movement, the origins and the end of the Cold War, the culture of the 1970s, the Reagan years, the Clinton presidency, and the events of September 11th and their aftermath.
In this edition, Chafe provides an insightful assessment of Clinton's legacy as president, particularly in light of his impeachment, and an entirely new chapter that examines the impact of two of America's most pivotal events of the twenty-first century: the 2000 presidential election turmoil and the September 11th terrorist attacks. Chafe puts forth an excellent account of George W. Bush's first year as president and also covers his subsequent role as a world leader following his administration's declared war on terrorism. The completely revised epilogue and updated bibliographic essay offer a compelling and controversial final commentary on America's past and its future. Brilliantly written by a prize-winning historian, the fifth edition of The Unfinished Journey is an essential text for all students of recent American history.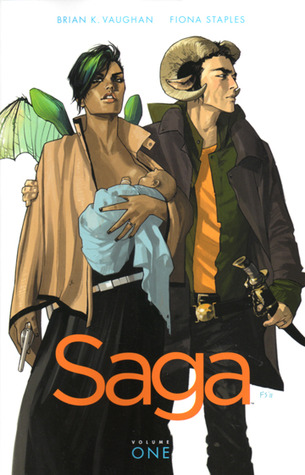 Saga, Volume 1 by Brian K. Vaughan and Fiona Staples
When two soldiers from opposite sides of a never-ending galactic war fall in love, they risk everything to bring a fragile new life into a dangerous old universe.
From New York Times bestselling writer Brian K. Vaughan (Y: The Last Man, Ex Machina) and critically acclaimed artist Fiona Staples (Mystery Society, North 40),
Saga
is the sweeping tale of one young family fighting to find their place in the worlds. Fantasy and science fiction are wed like never before in this sexy, subversive drama for adults.
This specially priced volume collects the first six issues of the smash-hit series The Onion A.V. Club calls "the emotional epic Hollywood wishes it could make."