"Stacking The Shelves is all about sharing the books you are adding to your shelves, may it be physical or virtual. This means you can include books you buy in physical store or online, books you borrow from friends or the library, review books, gifts and of course ebooks!"
For more info, click
here
.
PHYSICAL COPIES:
Nineteen-Eighty-Four
by George Orwell
Written in 1948,
1984
was George Orwell's chilling prophecy about the future. And while the year 1984 has come and gone, Orwell's narrative is timelier than ever.
1984
presents a startling and haunting vision of the world, so powerful that it is completely convincing from start to finish. No one can deny the power of this novel, its hold on the imaginations of multiple generations of readers, or the resiliency of its admonitions. A legacy that seems only to grow with the passage of time.
The Selection by Kiera Cass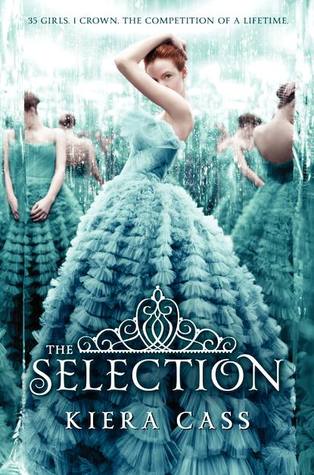 For thirty-five girls, the Selection is the chance of a lifetime. The opportunity to escape the life laid out for them since birth. To be swept up in a world of glittering gowns and priceless jewels. To live in a palace and compete for the heart of gorgeous Prince Maxon.
But for America Singer, being Selected is a nightmare. It means turning her back on her secret love with Aspen, who is a caste below her. Leaving her home to enter a fierce competition for a crown she doesn't want. Living in a palace that is constantly threatened by violent rebel attacks.
Then America meets Prince Maxon. Gradually, she starts to question all the plans she's made for herself—and realizes that the life she's always dreamed of may not compare to a future she never imagined.
The Elite (The Selection #2) by Kiera Cass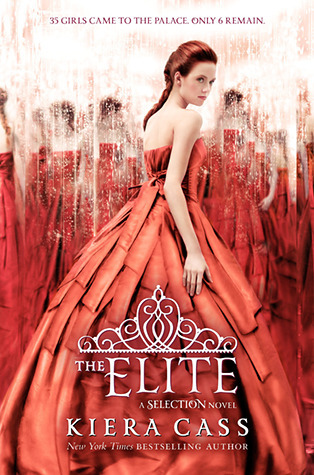 Thirty-five girls came to the palace to compete in the Selection. All but six have been sent home. And only one will get to marry Prince Maxon and be crowned princess of Illea.
America still isn't sure where her heart lies. When she's with Maxon, she's swept up in their new and breathless romance, and can't dream of being with anyone else. But whenever she sees Aspen standing guard around the palace, and is overcome with memories of the life they planned to share. With the group narrowed down to the Elite, the other girls are even more determined to win Maxon over—and time is running out for America to decide.
Just when America is sure she's made her choice, a devastating loss makes her question everything again. And while she's struggling to imagine her future, the violent rebels that are determined to overthrow the monarchy are growing stronger and their plans could destroy her chance at any kind of happy ending.
Daughter of Smoke and Bone
(Daughter of Smoke and Bone #1) by Laini Taylor
"Errand requiring immediate attention. Come.
The note was on vellum, pierced by the talons of the almost-crow that delivered it. Karou read the message. 'He never says please', she sighed, but she gathered up her things.
When Brimstone called, she always came."
In general, Karou has managed to keep her two lives in balance. On the one hand, she's a seventeen-year-old art student in Prague; on the other, errand-girl to a monstrous creature who is the closest thing she has to family. Raised half in our world, half in 'Elsewhere', she has never understood Brimstone's dark work - buying teeth from hunters and murderers - nor how she came into his keeping. She is a secret even to herself, plagued by the sensation that she isn't whole.
Now the doors to Elsewhere are closing, and Karou must choose between the safety of her human life and the dangers of a war-ravaged world that may hold the answers she has always sought.
Days of Blood and Starlight
(Daughter of Smoke and Bone #2) by Laini Taylor
Once upon a time, an angel and a devil fell in love and dared to imagine a world free of bloodshed and war.
This is not that world.
Art student and monster's apprentice Karou finally has the answers she has always sought. She knows who she is—and
what
she is. But with this knowledge comes another truth she would give anything to undo: She loved the enemy and he betrayed her, and a world suffered for it.
In this stunning sequel to the highly acclaimed
Daughter of Smoke & Bone
, Karou must decide how far she'll go to avenge her people. Filled with heartbreak and beauty, secrets and impossible choices,
Days of Blood & Starlight
finds Karou and Akiva on opposing sides as an age-old war stirs back to life.
While Karou and her allies build a monstrous army in a land of dust and starlight, Akiva wages a different sort of battle: a battle for redemption. For
hope
.
But can any hope be salvaged from the ashes of their broken dream?
Revolution
by Jennifer Donnelly
BROOKLYN: Andi Alpers is on the edge. She's angry at her father for leaving, angry at her mother for not being able to cope, and heartbroken by the loss of her younger brother, Truman. Rage and grief are destroying her. And she's about to be expelled from Brooklyn Heights' most prestigious private school when her father intervenes. Now Andi must accompany him to Paris for winter break.
PARIS: Alexandrine Paradis lived over two centuries ago. She dreamed of making her mark on the Paris stage, but a fateful encounter with a doomed prince of France cast her in a tragic role she didn't want—and couldn't escape.
Two girls, two centuries apart. One never knowing the other. But when Andi finds Alexandrine's diary, she recognizes something in her words and is moved to the point of obsession. There's comfort and distraction for Andi in the journal's antique pages—until, on a midnight journey through the catacombs of Paris, Alexandrine's words transcend paper and time, and the past becomes suddenly, terrifyingly present.
Jennifer Donnelly, author of the award-winning novel A Northern Light, artfully weaves two girls' stories into one unforgettable account of life, loss, and enduring love. Revolution spans centuries and vividly depicts the eternal struggles of the human heart.
T
he World According to Garp by John Irving
This is the life and times of T. S. Garp, the bastard son of Jenny Fields - a feminist leader ahead of her times. It is also the life and death of a famous mother and her almost-famous son; theirs is a world of sexual extremes - even of sexual assassinations. It is a novel rich with 'lunacy and sorrow'; yet the dark, violent events of the story do not undermine a comedy both ribald and robust. It provides almost cheerful, even hilarious evidence of its famous last line: 'In the world according to Garp, we are all terminal cases.'
John Irving published his first novel, Setting Free the Bears, in 1968. He has been nominated for a National Book Award three times - winning once, in 1980, for the novel The World According to Garp. He also received an O. Henry Award in 1981 for the short story 'Interior Space'. In 1992, he was inducted into the National Wrestling Hall of Fame in Stillwater, Oklahoma. In 2000, he won the Oscar for Best Adapted Screenplay for The Cider House Rules - a film with seven Academy Award nominations. In 2001, he was elected to the American Academy of Arts and Letters. His most recent novel is Last Night in Twisted River.
The Catcher in the Rye
by J.D. Salinger
ince his debut in 1951 as The Catcher in the Rye, Holden Caulfield has been synonymous with "cynical adolescent." Holden narrates the story of a couple of days in his sixteen-year-old life, just after he's been expelled from prep school, in a slang that sounds edgy even today and keeps this novel on banned book lists. It begins,
"If you really want to hear about it, the first thing you'll probably want to know is where I was born and what my lousy childhood was like, and how my parents were occupied and all before they had me, and all that David Copperfield kind of crap, but I don't feel like going into it, if you want to know the truth. In the first place, that stuff bores me, and in the second place, my parents would have about two hemorrhages apiece if I told anything pretty personal about them."
His constant wry observations about what he encounters, from teachers to phonies (the two of course are not mutually exclusive) capture the essence of the eternal teenage experience of alienation.
+
Clockwork Prince (The Infernal Devices #2) by Cassandra Clare (Collector's Edition)
+ Clockwork Princess (The Internal Devices #3) by Cassandra Clare (Collector's Edition)
NETGALLEY:
Me Without You
by Kelly Rimmer (expected publication June 2014)
If you enjoyed Me Before You by JoJo Moyes, One Day by David Nichols, or The Notebook by Nicholas Sparks – then make time for Kelly Rimmer's stunning, heartbreaking novel Me Without You.
A story of how love can break our hearts – and heal them.
A year ago I met the love of my life. For two people who didn't believe in love at first sight, we came pretty close.
Lilah MacDonald – beautiful, opinionated, stubborn and all kinds of wonderful in ways that words could never quite capture. The woman who taught me to live again.
My Lilah, who gave me so much, and yet kept from me a secret that she knew would break my heart.
My name is Callum Roberts, and this is our story.
The Best Thing That Never Happened To Me
by Jimmy Rice and Laura Tait (expected publication July 3rd 2014)
Everyone remembers their first love.
Holly has learnt that life isn't about seizing the moment. She might have harboured dreams about travelling the world as a teenager, but she let go of those - just as she let go of Alex.
But what if the feelings never really went away?
Alex wants to make every moment of his new job count. It's a fresh start in a new city, and he knows that moving to London has nothing to do with Holly. Well, probably.
How do you know if it was meant to be. or never meant to happen at all?
A brilliantly funny, feel-good story of first love, second chances and everything inbetween, perfect for fans of romantic comedies like
Love Actually
,
Notting Hill
and
Bridget Jones.
Then and Always
by Dani Atkins (expected publication May 20th 2014)
For fans of One Day, What Alice Forgot, and the hit filmSliding Doors, comes an absorbing and surprising debut novel about a young woman who, after an accident, gets a second chance at life . . . just not in one she remembers.
Rachel Wiltshire has everything she's ever wanted: a close group of friends, a handsome boyfriend, and acceptance to the journalism program at her top-choice college. But one fateful evening, tragedy tears her world apart.
Five years later, Rachel returns home for the first time to celebrate her best friend's wedding. Still coping with her grief, she can't stop thinking about the bright future she almost had, if only that one night had gone differently. But when a sudden fall lands her in the hospital, Rachel wakes to find that her life has completely changed. Now she has her dream job as a writer and a stylish apartment, but the people she loves most are not the way she remembers them. Unable to trust her own recollections, Rachel tries to piece together what really happened, and not even she can predict the astonishing truth.
Alias Hook
by Lisa Jensen (expected publication July 8th 2014)
"Every child knows how the story ends. The wicked pirate captain is flung overboard, caught in the jaws of the monster crocodile who drags him down to a watery grave. But it was not yet my time to die. It's my fate to be trapped here forever, in a nightmare of childhood fancy, with that infernal, eternal boy."
Meet Captain James Benjamin Hook, a witty, educated Restoration-era privateer cursed to play villain to a pack of malicious little boys in a pointless war that never ends. But everything changes when Stella Parrish, a forbidden grown woman, dreams her way to the Neverland in defiance of Pan's rules. From the glamour of the Fairy Revels, to the secret ceremonies of the First Tribes, to the mysterious underwater temple beneath the Mermaid Lagoon, the magical forces of the Neverland open up for Stella as they never have for Hook. And in the pirate captain himself, she begins to see someone far more complex than the storybook villain.
With Stella's knowledge of folk and fairy tales, she might be Hook's last chance for redemption and release if they can break his curse before Pan and his warrior boys hunt her down and drag Hook back to their neverending game.
Alias Hook
by Lisa Jensen is a beautifully and romantically written adult fairy tale perfect for fans of Gregory Maguire and Paula Brackston.