I was thinking about a nice challenge to give to all of you, my dear readers, and for myself as well. And then I got it... I know there probably are other challenges like this as well, but you know, maybe I get my own twist to it or something.
So, since I am completely obsessed with hot guys (I proudly admit it) I decided that it would be awesome to do a "calendar" of my favorite guys, choosing one for each month. And I decided to challange your into it as well. So make a list similar to mine to your own blog, listing your 12 favorite guys, one for each month of 2011. Give short description why you chose the guys, if you want to, but I think the most important thing is the pictures. :D
Link your list to this blog post, and then on the first day of 2011 I will share all of the lists in my blog! I would love to get these as much as possible, so please encourage your friends to do this as well. At least I do not find anything more relaxing that going to Google to find pictures of hot guys and telling why I like them. :D I hope I am not alone. And I would love to see your lists and do we have any similarities.
And sure, if you do not want to do list of guys, you are more than welcome to do the list of beautiful girls.
I am sorry if I make myself sound like a freak in this post. This is just me, I am always like this! So I warn you beforehand.
ENJOY!
READ.READ.READ. introduces "The Men of 2011":
Rupert Grint
Okay, I have always thought that he is cute. But in the newest Harry Potter film... he is plain sexy. I love him as Ron, but I think that I would love him even more as himself; he seems to be goofy, down to earth etc. I cannot wait for the second part of The Deathly Hallows to see more of this hottie.
Tom Felton
Okay, for the past three month, this guy has been my main weakness. His acting, music, looks... everything. And his ACCENT. Dammmn, he is just so hot. I can't wait to see the second part of Deathly Hallows. And I can't wait to see him in other roles than the role of Draco Malfoy, even though Draco is one of my favorite Potter characters.
Damian Kulash
I was fortunate enough to see this guy perform with his band in August 2010 here in Oulu. Yeah, miracles happen... sometimes amazeness like Ok Go visit places like this. His voice in incredible and the music Ok Go plays is just the type I love. And this guy, he is incredibly handsome. Even though he looks so good in this picture, it does not do him justice. You have to see him yourself to respect the handsomeness.
Paul Wesley
The ones that know me well know that I have weakness for vampires and for tall guys with dark hair and eyes and good bodies. So what happens when all of these things are put together? I get obsessed. Since the first episode of Vampire Diaries I have been in love with Paul Wesley and Stefan Salvatore. It seems that I cannot get enough of him. And what is better month to celebrate the hotness of Paul than April, the month I turn 20 and the month of my reading vacation.
Eric Dane
After seeing Eric Dane for the first time as McSteamy in Grey's Anatomy I have gone to the Doctor's appointments with high hopes of meeting a doctor as hot as him. This probably does not come as a surprise, but I haven't met a doctor like him yet... but maybe one day. With his hotness and steamyness, Eric Dane can help me in the May 2011 IB exams.
Ezra Koenig
This guy might be familiar to some of you as the vocalist of Vampire Weekend. I totally fell in love with Vampire Weekend at the beginning of 2010 when I heard someone listening to as school. It was only couple of weeks ago that I actually googled pictures of them and I found this hottie. Vampire Weekend is definitely the number 1 band I would love to see perform live. Maybe they want to come to play to graduation party which will be held in June?
Colin Firth
Okay, I know some of you are like "C'MON, you are 20 and he is like 100 years old!" SO WHAT? Have you seen him in Love Actually? What about in Bridget Jones? Or in BBC's Pride and Prejudice? After seeing P&P so many years ago, there hasn't been a way to go back; Colin Firth has totally stolen my heart. He made me learn to love Mr. Darcy even more (I did not think that is even possible). He also introduced me to the glorious English men which are now my weak point. And sideburns... oh god. Those are my weak point.
H.R.H. Prince Carl Philip of Sweden
I had to include one royal to my list... I love William and Harry as well, but I must admit that Carl Philip, the Prince of Sweden is my favorite royal. I think he is introducing the model of our new home in this picture... or then not.
James McAvoy
I could call this my inspiration picture for my time in university in Scotland. If there are guys like him in there, oh, I am ready! I fell in love with him in "Inside I'm Dancing" and when I saw him in "Becoming Jane" I was sold. His accent... just listen to it and you will be in heaven. I proudly admit I have gone to Youtube many times just to listen to his accent from his interviews.
Ed Westwick
Ed Westwick as bad boy Chuck Bass is one of the main reasons I still keep watching Gossip Girl. It seems that the plot itself is just repeating itself different ways, but it is interesting to follow the changes in Chuck. And the pure hotness of Ed Westwick makes it a lot more enjoyable.
Blake Ritson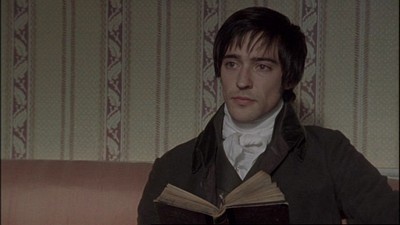 Since seeing Mansfield Park 2007 I have been in love with this guy. Edmund, my second favorite Austen man, becomes even more wonderful when Blake Ritson is playing him. Just watch the movie and you know what I am talking about.
Matthew Morrison
Well, what can I say? I think I would not mind ending the year 2011 with listening to this baby singing me some Christmas songs. He makes watching GLEE even more enjoyable.