Waiting on Wednesday is a weekly meme hosted by Jill@
Breaking the Spine
. It allows us to introduce some upcoming releases that we are eagerly anticipating.
The Infernal Devices: Clockwork Angel Book 1 by Cassandra Clare
Published by Margaret K. McElderry
Published: 06 September 2010
Description (from Book Depository):
It was London, 1878. Sixteen-year-old Tessa Gray's priority should be finding her brother, not falling in love, especially with two boys. She is soon caught in a dangerous love triangle where a wrong decision could prove fatal. Tessa will need all her strength to save her brother and stay alive.
My Name is Memory by Ann Brashares
Published by Riverhead Books
Published: 24 June 2010
Description (from Book Depository):
Daniel tells me that he's always loved me. That I feel the same. That I always have. Not just in this life, but in my last life, and all my lives before. But I don't remember him. He says he is always searching for me. Always hoping that one day I will remember. But it is only he that carries the memory of our love. I know that finding true love is never easy. Perhaps you have fought for it. Perhaps, like Daniel, you have endured the pain of it being unrequited. But I hope your quest ends happily. I hope you never have to face the heartbreak that inevitably awaits us. This is our extraordinary, unforgettable story.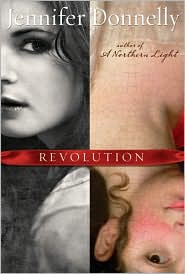 Revolution by Jennifer Donnelly
Published by Delacorte Books for Young Readers
Published: October 12, 2010
Description (from B&N):
BROOKLYN: Andi Alpers is on the edge. She's angry at her father for leaving, angry at her mother for not being able to cope, and heartbroken by the loss of her younger brother, Truman. Rage and grief are destroying her. And she's about to be expelled from Brooklyn Heights' most prestigious private school when her father intervenes. Now Andi must accompany him to Paris for winter break.
PARIS: Alexandrine Paradis lived over two centuries ago. She dreamed of making her mark on the Paris stage, but a fateful encounter with a doomed prince of France cast her in a tragic role she didn't want—and couldn't escape.
Two girls, two centuries apart. One never knowing the other. But when Andi finds Alexandrine's diary, she recognizes something in her words and is moved to the point of obsession. There's comfort and distraction for Andi in the journal's antique pages—until, on a midnight journey through the catacombs of Paris, Alexandrine's words transcend paper and time, and the past becomes suddenly, terrifyingly present.
Jennifer Donnelly, author of the award-winning novel
A Northern Light,
artfully weaves two girls' stories into one unforgettable account of life, loss, and enduring love. Revolution spans centuries and vividly depicts the eternal struggles of the human heart.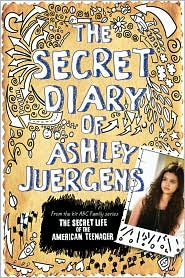 The Secret Diary of Ashley Juergens by Ashley Juergens
Published by Hyperion
Published: June 15, 2010
Description (from B&N):
I got called into Principal Miller's office again. She handed me a notebook. This notebook. She told me keeping a journal is an excellent way to express oneself. So I have to write in this stupid thing and turn it in at the end of each month.
Little does she know what she's in for. With everything that's been going on—Amy's band camp pregnancy, my parents' divorce, a secret wedding—it's practically one- stop shopping for all your Grant High gossip needs.
Property of Ashley Juergens. Read at your own risk (especially you, Amy).