Note: I do not include Jane Austen adaptations to this since they would make up the whole list.



It is extremely hard to put these movies into a specified order, so I am just going to introduce you 10 romantic movies I love in random order.
You've Got Mail (1998)
Kathleen Kelly is a owner of a small book shop at New York City. On Internet, she meets a fellow New Yorker and they start to
e-mail to each other. There is a definite connection between them and they get close and close by every e-mail. At the same time, Kathleen's bookstore and its future are on hold when a big bookstore chain is opening a massive store close to the
corner store. Joe Fox, the son of the owner of Fox books, becomes the biggest rival of Kathleen. The thing
Kathleen, or Joe, do not know, is that they are actually e-mailing to each other and pretty much falling in love.


I love Tom Hanks and Meg Ryan in this movie. They have go
od connection and this movie is totally one of those movies you can watch over and over again.
Leap Year (2010)
Anna has been dating her
perfect doctor boyfriend for years. She has
been waiting a
proposal for a while. She believes that the moment has come
when they have dinner at a fancy restaurant. In the end, she gets earrings, not a ring. Her father tells her about old Irish tradition, that on a leap year, on 29th of February, a woman can propose a man.
When Anna's boyfriend travels to Dublin for work she follows him and plans to propose him. Nothing goes as Anna has planned and she finds herself from other side of Ireland. With a help of a innkeeper Declan she finally gets to Dublin. When she eventually sees her boyfriend again, she begins to wonder is he the right one for her
, or could Declan, a man who annoys her for
most of the time, be the love of her life?


I adore Matthew Goode! He is so gorgeous and his accent...
it makes me melt. He is so gorgeous. And Amy Adams is so funny as Anna.
The Notebook (2004)
Based on a novel by Nicholas Sparks. In this movie an old man
tells a story of Noah and Allie to a old woman in a nursing home. Noah and Allie fall in love and have a summer filled with love and joy but eventually they are separated by their social differences. Allie gets engaged to other man, but seeing Noah again makes her change her mind about getting married. The Notebook is such a beautiful story about the strenght of first, true love.


I saw the Notebook for the first time when I lived in US. It even made my boyfriend cry. Even though I
've
seen it many times it still makes me cry.
A Walk to Remember (2002)
Based on a novel by Nicholas Spark
s. Landon Carter and Jamie Sullivan are teens from North
Carolina. Landon is one of the
popular kids of the high school,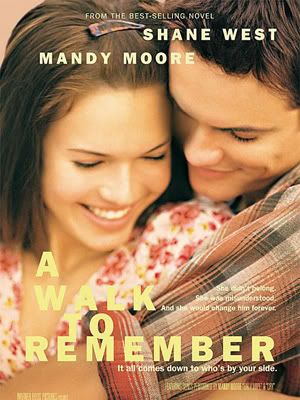 Jamie is a highly religious pastor's girl. When Landon gets the part in the annual sch
ool play he starts to spend time with Jamie. He notices that the girl they have laugh
ed for is actually the girl he fells in love with. But Jam
ie has a secret she hasn't told for Landon.


This is one of those movies that will make you cry. I promise. I love the book by Nicholas Sparks but this
movie is also amazing.


The Holiday (2006)
Two women with guy problems swap homes for two weeks. Amanda from LA goes to UK when Iris from UK goes to Amanda's house at LA. At UK Amanda meets Graham, a charming, a little
mysterious brother of Iris. At LA Iris meets Miles,
a movie music composer. Could the
two weeks at a different country be the cure for the guy problems these woman have had for a while now?
I have seen this movie probably 50 times. I think I watched it 4 times over the Christmas holida
y. Jude Law in this movie... words cannot describe him, you must see it yourself!
Sleepless in Seattle (1993)
Sam has recently widowed. When is son calls a radio talkshow in attempt to find his father a new partner hundreds of woman all
over America try to contact Sam. Annie is one of these women. She liste
ns to the radio show and hears Sam talking there. She writes a letter to him and when Sam's son reads the letter he knows that Annie is the one for him. Sam's son, Jonah, travels from
Seattle to New York city to meet Annie. Sam has also
traveled to NYC to get Jonah home and all the three of them eventually meet at the top of the Empire State Building.


This movie also stars Meg Ryan and Tom Han
ks. I have seen this one so many times I remember some lines by heart. The favorite of me and my mother.

Notting Hill (1999)
William is a travelbookshop keeper from Nottinghill, L
ondon. One day Anna, a famous American film star, walks into
William's store and nothing will be the same after that. They fall in love but there are certain problems Anna's career causes. Can they be together or are their worlds too different to be fit together?


I used to love Hugh Grant when I was younger and I still think that he is pretty charming. I still have this collection of Hugh Grant movies which most of my
friends laugh to because they think that he is disgusting. :D

A Cinderella Story (2004)
Sam Montgomery, a high school student, lives with her wicked step mother and two step sisters. She waiters at a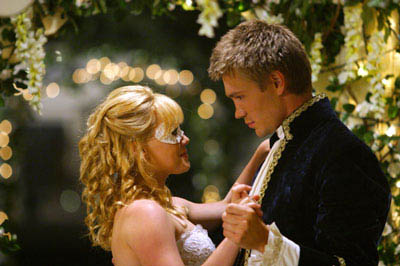 restaurant and by the popular kids of the school she is called "diner girl". She has a dream of doing to Princeton since it is a university her
father used to talk about when she was little. On a chat she meets a guy who also dreams about going to Princeton. Eventually she learns that the guy she has met on Internet is Austin Ames, the most popular guy of her school.
Can a girl no one hardly knows and a guy who makes every girl go crazy be together?


I remember when I bought this movie. I was so in love with Chad M
ichael Murray that time that I probably watched this movie like 5 times during one weekend. I still love this one and think that I will watch it on Sunday to
celebrate the Valentine's Day! :)

Pretty Woman (1990)
A rich, business man hires an prostitute to be his escort to some events. Vivian is a LA
prostitute who works to get
money to be something else. Edward is a rich business man who hasn't have the luck to find a love for his life. The time he spends with Vivian makes him realize that maybe Vivian is the one for him.
This is probably one of the best chick-flick movies ever. Richard Gere is so charming as Edward.

Clueless (1995)
The story is slightly based on Jane Austen's Emma. Cher is a rich Beverly Hills girl. She is popular, she has bunch of friends and she loves shopping and hanging around with her friends. She is a bit of a air head, but also very smart when she wants to. When new girl, Tai, comes to her school she takes a job to make Tai look good and fit to the crowd. At home Josh, Cher's father's ex wives son annoys her. Josh makes fun of Cher and always pulls her back to the ground. What Cher does not notice is the fact that maybe she is in love with this annoying, nerdy guy.
So funny! And Paul Judd as Josh, me likey!

There are many more movies I love but there are the first 10 movies that came into my mind at the moment. :)


What are your favorite romantic movies?