On My Wishlist is a weekly meme hosted by
Book Chick City
.
My Wishlist is extremely long and it would take the whole week to write here all the books I would like to have. I will just post couple of them in here.
If you have read these books and reviewed them, please leave a comment for me because I would love to read your reviews. :)
I've read two books by Sarah Dessen; The truth about forever and Keeping the moon (Last chance). I've loved both of those books. What I especially love about this book is the cover, it catched my eye right away. Also the summary sounds really great.

Along for the Ride by Sarah
Dessen

Publication date:

June 2009
Hardcover: 383 pages

Summary (Goodreads):

It's been so long since Auden slept at night. Ever since her parents' divorce—or since the fighting started. Now she has the chance to spend a carefree summer with her dad and his new family in the charming beach town where they live.
A job in a clothes boutique introduces Auden to the world of girls: their talk, their friendship, their crushes. She missed out on all that, too busy being the perfect daughter to her demanding mother. Then she meets Eli, an intriguing loner and a fellow insomniac who becomes her guide to the nocturnal world of the town. Together they embark on parallel quests: for Auden, to experience the carefree teenage life she's been denied; for Eli, to come to terms with the guilt he feels for the death of a friend.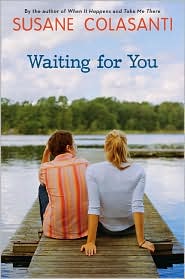 I s
aw this book a while ago at Goodreads and after reading the summary I had to add it to my TBR pile right away. I love romantic stories and that is why I think this book would be a perfect read for me. :)

Waiting for You by Susane Colisanti
Publication Date: July 2009
Hardcover: 288 pages

Summary (Goodreads):

At the beginning of her sophomore year, Marisa is ready for a fresh start and, more importantly, a boyfriend. So when the handsome and popular Derek asks her out, Marisa thinks her long wait for happiness is over. But several bumps in the road—including her parents' unexpected separation, a fight with her best friend, and a shocking disappointment in her relationship with Derek—test Marisa's ability to maintain her new outlook. Only the anonymous DJ, whose underground podcasts have the school's ear, seems to understand what Marisa is going through. But she has no idea who he is—or does she?
In this third romantic novel from Susane Colasanti, Marisa learns how to "be in the Now" and realizes that the love she's been waiting for has been right in front of her all along.
I've seen this book around the blogsphere and after reading a couple of reviews of it I have wanted to read this book SO BADLY! It sounds so good. I hope I will be able to find it from bookstores here at Finland (probably not because the bookstores here suck!).

Perfect Chemistry by Simone Elkeles
Publication Date: January 2008
Paperback: 357 pages
Summary (Goodreads:
A fresh, urban twist on the classic tale of star-crossed lovers.
When Brittany Ellis walks into chemistry class on the first day of senior year, she has no clue that her carefully created "perfect" life is about to unravel before her eyes. She's forced to be lab partners with Alex Fuentes, a gang member from the other side of town, and he is about to threaten everything
she's worked so hard for—her flawless reputation, her relationship with her boyfriend, and the secret that her home life is anything but perfect. Alex is a bad boy and he knows it. So when he makes a bet with his friends to lure Brittany into his life, he thinks nothing of it. But soon Alex realizes Brittany is a real person with real problems, and suddenly the bet he made in arrogance turns into something much more. In a passionate story about looking beneath the surface, Simone Elkeles breaks through the stereotypes and barriers that threaten to keep Brittany and Alex apart.
When I read about this book for the first time I seriously freaked out. I love Sex and the City and I cannot wait to read this book about Carrie's youth.

Carrie Diaries by Candace Bushnell
Publication Date: April 27, 2010
Summary (B&N):
Before Carrie Bradshaw hit the big time in the City, she was a regular girl growing up in the suburbs of Connecticut. How did she turn into one of the most-read social observers of our generation?
The Carrie Diaries opens up in Carrie's senior year of high school. She and her best friends -- Walt, Lali, Maggie, and the Mouse -- are inseparable, amid the sea of Jens, Jocks and Jets. And then Sebastian Kydd comes into the picture. Sebastian is a bad boy-older, intriguing, and unpredictable. Carrie falls into the relationship that she was always supposed to have in high school-until a friend's betrayal makes her question everything. With her high school days coming to a close, Carrie will realize it's finally time to go after everything she ever wanted.
Rabid fans of Sex and the City will love seeing Carrie Bradshaw evolve from a regular girl into a sharp, insightful writer. They'll learn about her family background -- how she found her writing voice, and the indelible impression her early friendships and relationships left on her. We'll see what brings Carrie to her beloved New York City, where the next Carrie Diaries book will take place.